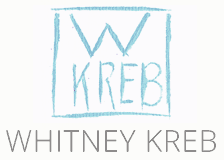 Blog
A Nantucket Commission: start to finish
April 21, 2016
Progress pictures are sometimes hard to post. You never know if your audience will see where you're heading, or if a client might get discouraged because it doesn't look at all what they envision as the final piece. All that aside, I get a lot of requests to see work in progress, so I try to post at least a detail shot here and there. And, when I remember to take a bunch of pictures along the way (which rarely happens), it's cool to be able to see the whole progression...
Read more
Summer Blog Features
September 7, 2015
Thank you to the Nantucket BlACKbook and The English Room for the following interviews. Always a pleasuere to work with hard-working, stylish ladies that I admire! nantucketblackbook.com/august-artistonack/ www.theenglishroom.biz/2015/09/07/artist-spotlight-series-whitney-kreb/
Read more
Eclectic Charleston Artist Interview
May 13, 2014
My interview for Eclectic, Charleston... Whitney Kreb's oil paintings celebrate the relaxed elegance that is seaside living. The artist, who splits her time between Charleston, SC, and Nantucket, MA, creates unique compositions of coastal scenery that are harmoniously graphic and painterly. Her aesthetic is constantly evloving as she reworks and reinvents mainstays that include sea life, ocean views, and the familiar streets of her hometowns. She also paints...
Read more
Charleston Artist Collective for One King's Lane
May 13, 2014
www.onekingslane.com/sales/36375 Charleston Artist Collective has paired up with One King's Lane for our second pop up sale. Check it out on the link above through Saturday, May 11.
Read more
Charleston Library Society Mural
January 31, 2014
It was such an honor to have the opportunity to paint a mural at the Charleston Library Society for their new teen section. www.charlestonlibrarysociety.org The Library Society was established in 1748 and this year marks 100 years at its current location, 164 King Street.
Read more
isuwannee blog
January 31, 2014
So cool to see one of my "Nantucket Bound" paintings in a bedroom shot featured on Furbish Studio's blog isuwannee.com But Tonight I Am Nantucket Bound......... oil on canvas, 36" x 24" www.isuwannee.com
Read more
Watercolors for the Charleston Library Society
May 28, 2013
Charleston Library Society, original watercolor .... made into Charleston Library Society note cards Note cards for sale at Library Society, $8 for six Original watercolor for A Night in Monte Carlo invitation.. ..and the finished invitation. (*A Night in Monte Carlo: An Old World Casino Comes to Charleston Friday, June 21st, 8-11 pm at the Charleston Library Society)
Read more
Pet Portraits
May 13, 2013
Louie Willa Cotton *Pet portraits available by commission. All are graphite on paper.
Read more